Consumer Price Index for All Urban Consumers (CPI-U), United States
Overview
Consumer Price Index for All Urban Consumers, CPI-U, is one of the core consumer price indixes calculated by the US Bureau of Labor Statistics. It covers all households of all Metropoiltan Statistical Areas, which is around 80% of the country population. This is the most generic index, covering the most of the population and its components weights are updated only once in two years, making it the most suitable for the inflation calculation.
The index is calculated in the United States since 1913 and 100 corresponds to years of 1982-1984.
The index is usually updaed on 16 - 20 of the month, following subject one.
Data
| Year | Jan | Feb | Mar | Apr | May | Jun | Jul | Aug | Sep | Oct | Nov | Dec |
| --- | --- | --- | --- | --- | --- | --- | --- | --- | --- | --- | --- | --- |
| 2020 | 257.971 | 258.678 | 258.115 | 256.389 | 256.394 | 257.797 | 259.101 | 259.918 | 260.280 | 260.388 | 260.229 | 260.474 |
| 2019 | 251.712 | 252.776 | 254.202 | 255.548 | 256.092 | 256.143 | 256.571 | 256.558 | 256.759 | 257.346 | 257.208 | 256.974 |
| 2018 | 247.867 | 248.991 | 249.554 | 250.546 | 251.588 | 251.989 | 252.006 | 252.146 | 252.439 | 252.885 | 252.038 | 251.233 |
| 2017 | 242.839 | 243.603 | 243.801 | 244.524 | 244.733 | 244.955 | 244.786 | 245.519 | 246.819 | 246.663 | 246.669 | 246.524 |
| 2016 | 236.916 | 237.111 | 238.132 | 239.261 | 240.229 | 241.018 | 240.628 | 240.849 | 241.428 | 241.729 | 241.353 | 241.432 |
| 2015 | 233.707 | 234.722 | 236.119 | 236.599 | 237.805 | 238.638 | 238.654 | 238.316 | 237.945 | 237.838 | 237.336 | 236.525 |
| 2014 | 233.916 | 234.781 | 236.293 | 237.072 | 237.900 | 238.343 | 238.250 | 237.852 | 238.031 | 237.433 | 236.151 | 234.812 |
| 2013 | 230.280 | 232.166 | 232.773 | 232.531 | 232.945 | 233.504 | 233.596 | 233.877 | 234.149 | 233.546 | 233.069 | 233.049 |
| 2012 | 226.665 | 227.663 | 229.392 | 230.085 | 229.815 | 229.478 | 229.104 | 230.379 | 231.407 | 231.317 | 230.221 | 229.601 |
| 2011 | 220.223 | 221.309 | 223.467 | 224.906 | 225.964 | 225.722 | 225.922 | 226.545 | 226.889 | 226.421 | 226.230 | 225.672 |
| 2010 | 216.687 | 216.741 | 217.631 | 218.009 | 218.178 | 217.965 | 218.011 | 218.312 | 218.439 | 218.711 | 218.803 | 219.179 |
| 2009 | 211.143 | 212.193 | 212.709 | 213.240 | 213.856 | 215.693 | 215.351 | 215.834 | 215.969 | 216.177 | 216.330 | 215.949 |
| 2008 | 211.080 | 211.693 | 213.528 | 214.823 | 216.632 | 218.815 | 219.964 | 219.086 | 218.783 | 216.573 | 212.425 | 210.228 |
| 2007 | 202.416 | 203.499 | 205.352 | 206.686 | 207.949 | 208.352 | 208.299 | 207.917 | 208.490 | 208.936 | 210.177 | 210.036 |
| 2006 | 198.3 | 198.7 | 199.8 | 201.5 | 202.5 | 202.9 | 203.5 | 203.9 | 202.9 | 201.8 | 201.5 | 201.8 |
| 2005 | 190.7 | 191.8 | 193.3 | 194.6 | 194.4 | 194.5 | 195.4 | 196.4 | 198.8 | 199.2 | 197.6 | 196.8 |
| 2004 | 185.2 | 186.2 | 187.4 | 188.0 | 189.1 | 189.7 | 189.4 | 189.5 | 189.9 | 190.9 | 191.0 | 190.3 |
| 2003 | 181.7 | 183.1 | 184.2 | 183.8 | 183.5 | 183.7 | 183.9 | 184.6 | 185.2 | 185.0 | 184.5 | 184.3 |
| 2002 | 177.1 | 177.8 | 178.8 | 179.8 | 179.8 | 179.9 | 180.1 | 180.7 | 181.0 | 181.3 | 181.3 | 180.9 |
| 2001 | 175.1 | 175.8 | 176.2 | 176.9 | 177.7 | 178.0 | 177.5 | 177.5 | 178.3 | 177.7 | 177.4 | 176.7 |
| 2000 | 168.8 | 169.8 | 171.2 | 171.3 | 171.5 | 172.4 | 172.8 | 172.8 | 173.7 | 174.0 | 174.1 | 174.0 |
| 1999 | 164.3 | 164.5 | 165.0 | 166.2 | 166.2 | 166.2 | 166.7 | 167.1 | 167.9 | 168.2 | 168.3 | 168.3 |
| 1998 | 161.6 | 161.9 | 162.2 | 162.5 | 162.8 | 163.0 | 163.2 | 163.4 | 163.6 | 164.0 | 164.0 | 163.9 |
| 1997 | 159.1 | 159.6 | 160.0 | 160.2 | 160.1 | 160.3 | 160.5 | 160.8 | 161.2 | 161.6 | 161.5 | 161.3 |
| 1996 | 154.4 | 154.9 | 155.7 | 156.3 | 156.6 | 156.7 | 157.0 | 157.3 | 157.8 | 158.3 | 158.6 | 158.6 |
| 1995 | 150.3 | 150.9 | 151.4 | 151.9 | 152.2 | 152.5 | 152.5 | 152.9 | 153.2 | 153.7 | 153.6 | 153.5 |
| 1994 | 146.2 | 146.7 | 147.2 | 147.4 | 147.5 | 148.0 | 148.4 | 149.0 | 149.4 | 149.5 | 149.7 | 149.7 |
| 1993 | 142.6 | 143.1 | 143.6 | 144.0 | 144.2 | 144.4 | 144.4 | 144.8 | 145.1 | 145.7 | 145.8 | 145.8 |
| 1992 | 138.1 | 138.6 | 139.3 | 139.5 | 139.7 | 140.2 | 140.5 | 140.9 | 141.3 | 141.8 | 142.0 | 141.9 |
| 1991 | 134.6 | 134.8 | 135.0 | 135.2 | 135.6 | 136.0 | 136.2 | 136.6 | 137.2 | 137.4 | 137.8 | 137.9 |
| 1990 | 127.4 | 128.0 | 128.7 | 128.9 | 129.2 | 129.9 | 130.4 | 131.6 | 132.7 | 133.5 | 133.8 | 133.8 |
| 1989 | 121.1 | 121.6 | 122.3 | 123.1 | 123.8 | 124.1 | 124.4 | 124.6 | 125.0 | 125.6 | 125.9 | 126.1 |
| 1988 | 115.7 | 116.0 | 116.5 | 117.1 | 117.5 | 118.0 | 118.5 | 119.0 | 119.8 | 120.2 | 120.3 | 120.5 |
| 1987 | 111.2 | 111.6 | 112.1 | 112.7 | 113.1 | 113.5 | 113.8 | 114.4 | 115.0 | 115.3 | 115.4 | 115.4 |
| 1986 | 109.6 | 109.3 | 108.8 | 108.6 | 108.9 | 109.5 | 109.5 | 109.7 | 110.2 | 110.3 | 110.4 | 110.5 |
| 1985 | 105.5 | 106.0 | 106.4 | 106.9 | 107.3 | 107.6 | 107.8 | 108.0 | 108.3 | 108.7 | 109.0 | 109.3 |
| 1984 | 101.9 | 102.4 | 102.6 | 103.1 | 103.4 | 103.7 | 104.1 | 104.5 | 105.0 | 105.3 | 105.3 | 105.3 |
| 1983 | 97.8 | 97.9 | 97.9 | 98.6 | 99.2 | 99.5 | 99.9 | 100.2 | 100.7 | 101.0 | 101.2 | 101.3 |
| 1982 | 94.3 | 94.6 | 94.5 | 94.9 | 95.8 | 97.0 | 97.5 | 97.7 | 97.9 | 98.2 | 98.0 | 97.6 |
| 1981 | 87.0 | 87.9 | 88.5 | 89.1 | 89.8 | 90.6 | 91.6 | 92.3 | 93.2 | 93.4 | 93.7 | 94.0 |
| 1980 | 77.8 | 78.9 | 80.1 | 81.0 | 81.8 | 82.7 | 82.7 | 83.3 | 84.0 | 84.8 | 85.5 | 86.3 |
| 1979 | 68.3 | 69.1 | 69.8 | 70.6 | 71.5 | 72.3 | 73.1 | 73.8 | 74.6 | 75.2 | 75.9 | 76.7 |
| 1978 | 62.5 | 62.9 | 63.4 | 63.9 | 64.5 | 65.2 | 65.7 | 66.0 | 66.5 | 67.1 | 67.4 | 67.7 |
| 1977 | 58.5 | 59.1 | 59.5 | 60.0 | 60.3 | 60.7 | 61.0 | 61.2 | 61.4 | 61.6 | 61.9 | 62.1 |
| 1976 | 55.6 | 55.8 | 55.9 | 56.1 | 56.5 | 56.8 | 57.1 | 57.4 | 57.6 | 57.9 | 58.0 | 58.2 |
| 1975 | 52.1 | 52.5 | 52.7 | 52.9 | 53.2 | 53.6 | 54.2 | 54.3 | 54.6 | 54.9 | 55.3 | 55.5 |
| 1974 | 46.6 | 47.2 | 47.8 | 48.0 | 48.6 | 49.0 | 49.4 | 50.0 | 50.6 | 51.1 | 51.5 | 51.9 |
| 1973 | 42.6 | 42.9 | 43.3 | 43.6 | 43.9 | 44.2 | 44.3 | 45.1 | 45.2 | 45.6 | 45.9 | 46.2 |
| 1972 | 41.1 | 41.3 | 41.4 | 41.5 | 41.6 | 41.7 | 41.9 | 42.0 | 42.1 | 42.3 | 42.4 | 42.5 |
| 1971 | 39.8 | 39.9 | 40.0 | 40.1 | 40.3 | 40.6 | 40.7 | 40.8 | 40.8 | 40.9 | 40.9 | 41.1 |
| 1970 | 37.8 | 38.0 | 38.2 | 38.5 | 38.6 | 38.8 | 39.0 | 39.0 | 39.2 | 39.4 | 39.6 | 39.8 |
| 1969 | 35.6 | 35.8 | 36.1 | 36.3 | 36.4 | 36.6 | 36.8 | 37.0 | 37.1 | 37.3 | 37.5 | 37.7 |
| 1968 | 34.1 | 34.2 | 34.3 | 34.4 | 34.5 | 34.7 | 34.9 | 35.0 | 35.1 | 35.3 | 35.4 | 35.5 |
| 1967 | 32.9 | 32.9 | 33.0 | 33.1 | 33.2 | 33.3 | 33.4 | 33.5 | 33.6 | 33.7 | 33.8 | 33.9 |
| 1966 | 31.8 | 32.0 | 32.1 | 32.3 | 32.3 | 32.4 | 32.5 | 32.7 | 32.7 | 32.9 | 32.9 | 32.9 |
| 1965 | 31.2 | 31.2 | 31.3 | 31.4 | 31.4 | 31.6 | 31.6 | 31.6 | 31.6 | 31.7 | 31.7 | 31.8 |
| 1964 | 30.9 | 30.9 | 30.9 | 30.9 | 30.9 | 31.0 | 31.1 | 31.0 | 31.1 | 31.1 | 31.2 | 31.2 |
| 1963 | 30.4 | 30.4 | 30.5 | 30.5 | 30.5 | 30.6 | 30.7 | 30.7 | 30.7 | 30.8 | 30.8 | 30.9 |
| 1962 | 30.0 | 30.1 | 30.1 | 30.2 | 30.2 | 30.2 | 30.3 | 30.3 | 30.4 | 30.4 | 30.4 | 30.4 |
| 1961 | 29.8 | 29.8 | 29.8 | 29.8 | 29.8 | 29.8 | 30.0 | 29.9 | 30.0 | 30.0 | 30.0 | 30.0 |
| 1960 | 29.3 | 29.4 | 29.4 | 29.5 | 29.5 | 29.6 | 29.6 | 29.6 | 29.6 | 29.8 | 29.8 | 29.8 |
| 1959 | 29.0 | 28.9 | 28.9 | 29.0 | 29.0 | 29.1 | 29.2 | 29.2 | 29.3 | 29.4 | 29.4 | 29.4 |
| 1958 | 28.6 | 28.6 | 28.8 | 28.9 | 28.9 | 28.9 | 29.0 | 28.9 | 28.9 | 28.9 | 29.0 | 28.9 |
| 1957 | 27.6 | 27.7 | 27.8 | 27.9 | 28.0 | 28.1 | 28.3 | 28.3 | 28.3 | 28.3 | 28.4 | 28.4 |
| 1956 | 26.8 | 26.8 | 26.8 | 26.9 | 27.0 | 27.2 | 27.4 | 27.3 | 27.4 | 27.5 | 27.5 | 27.6 |
| 1955 | 26.7 | 26.7 | 26.7 | 26.7 | 26.7 | 26.7 | 26.8 | 26.8 | 26.9 | 26.9 | 26.9 | 26.8 |
| 1954 | 26.9 | 26.9 | 26.9 | 26.8 | 26.9 | 26.9 | 26.9 | 26.9 | 26.8 | 26.8 | 26.8 | 26.7 |
| 1953 | 26.6 | 26.5 | 26.6 | 26.6 | 26.7 | 26.8 | 26.8 | 26.9 | 26.9 | 27.0 | 26.9 | 26.9 |
| 1952 | 26.5 | 26.3 | 26.3 | 26.4 | 26.4 | 26.5 | 26.7 | 26.7 | 26.7 | 26.7 | 26.7 | 26.7 |
| 1951 | 25.4 | 25.7 | 25.8 | 25.8 | 25.9 | 25.9 | 25.9 | 25.9 | 26.1 | 26.2 | 26.4 | 26.5 |
| 1950 | 23.5 | 23.5 | 23.6 | 23.6 | 23.7 | 23.8 | 24.1 | 24.3 | 24.4 | 24.6 | 24.7 | 25.0 |
| 1949 | 24.0 | 23.8 | 23.8 | 23.9 | 23.8 | 23.9 | 23.7 | 23.8 | 23.9 | 23.7 | 23.8 | 23.6 |
| 1948 | 23.7 | 23.5 | 23.4 | 23.8 | 23.9 | 24.1 | 24.4 | 24.5 | 24.5 | 24.4 | 24.2 | 24.1 |
| 1947 | 21.5 | 21.5 | 21.9 | 21.9 | 21.9 | 22.0 | 22.2 | 22.5 | 23.0 | 23.0 | 23.1 | 23.4 |
| 1946 | 18.2 | 18.1 | 18.3 | 18.4 | 18.5 | 18.7 | 19.8 | 20.2 | 20.4 | 20.8 | 21.3 | 21.5 |
| 1945 | 17.8 | 17.8 | 17.8 | 17.8 | 17.9 | 18.1 | 18.1 | 18.1 | 18.1 | 18.1 | 18.1 | 18.2 |
| 1944 | 17.4 | 17.4 | 17.4 | 17.5 | 17.5 | 17.6 | 17.7 | 17.7 | 17.7 | 17.7 | 17.7 | 17.8 |
| 1943 | 16.9 | 16.9 | 17.2 | 17.4 | 17.5 | 17.5 | 17.4 | 17.3 | 17.4 | 17.4 | 17.4 | 17.4 |
| 1942 | 15.7 | 15.8 | 16.0 | 16.1 | 16.3 | 16.3 | 16.4 | 16.5 | 16.5 | 16.7 | 16.8 | 16.9 |
| 1941 | 14.1 | 14.1 | 14.2 | 14.3 | 14.4 | 14.7 | 14.7 | 14.9 | 15.1 | 15.3 | 15.4 | 15.5 |
| 1940 | 13.9 | 14.0 | 14.0 | 14.0 | 14.0 | 14.1 | 14.0 | 14.0 | 14.0 | 14.0 | 14.0 | 14.1 |
| 1939 | 14.0 | 13.9 | 13.9 | 13.8 | 13.8 | 13.8 | 13.8 | 13.8 | 14.1 | 14.0 | 14.0 | 14.0 |
| 1938 | 14.2 | 14.1 | 14.1 | 14.2 | 14.1 | 14.1 | 14.1 | 14.1 | 14.1 | 14.0 | 14.0 | 14.0 |
| 1937 | 14.1 | 14.1 | 14.2 | 14.3 | 14.4 | 14.4 | 14.5 | 14.5 | 14.6 | 14.6 | 14.5 | 14.4 |
| 1936 | 13.8 | 13.8 | 13.7 | 13.7 | 13.7 | 13.8 | 13.9 | 14.0 | 14.0 | 14.0 | 14.0 | 14.0 |
| 1935 | 13.6 | 13.7 | 13.7 | 13.8 | 13.8 | 13.7 | 13.7 | 13.7 | 13.7 | 13.7 | 13.8 | 13.8 |
| 1934 | 13.2 | 13.3 | 13.3 | 13.3 | 13.3 | 13.4 | 13.4 | 13.4 | 13.6 | 13.5 | 13.5 | 13.4 |
| 1933 | 12.9 | 12.7 | 12.6 | 12.6 | 12.6 | 12.7 | 13.1 | 13.2 | 13.2 | 13.2 | 13.2 | 13.2 |
| 1932 | 14.3 | 14.1 | 14.0 | 13.9 | 13.7 | 13.6 | 13.6 | 13.5 | 13.4 | 13.3 | 13.2 | 13.1 |
| 1931 | 15.9 | 15.7 | 15.6 | 15.5 | 15.3 | 15.1 | 15.1 | 15.1 | 15.0 | 14.9 | 14.7 | 14.6 |
| 1930 | 17.1 | 17.0 | 16.9 | 17.0 | 16.9 | 16.8 | 16.6 | 16.5 | 16.6 | 16.5 | 16.4 | 16.1 |
| 1929 | 17.1 | 17.1 | 17.0 | 16.9 | 17.0 | 17.1 | 17.3 | 17.3 | 17.3 | 17.3 | 17.3 | 17.2 |
| 1928 | 17.3 | 17.1 | 17.1 | 17.1 | 17.2 | 17.1 | 17.1 | 17.1 | 17.3 | 17.2 | 17.2 | 17.1 |
| 1927 | 17.5 | 17.4 | 17.3 | 17.3 | 17.4 | 17.6 | 17.3 | 17.2 | 17.3 | 17.4 | 17.3 | 17.3 |
| 1926 | 17.9 | 17.9 | 17.8 | 17.9 | 17.8 | 17.7 | 17.5 | 17.4 | 17.5 | 17.6 | 17.7 | 17.7 |
| 1925 | 17.3 | 17.2 | 17.3 | 17.2 | 17.3 | 17.5 | 17.7 | 17.7 | 17.7 | 17.7 | 18.0 | 17.9 |
| 1924 | 17.3 | 17.2 | 17.1 | 17.0 | 17.0 | 17.0 | 17.1 | 17.0 | 17.1 | 17.2 | 17.2 | 17.3 |
| 1923 | 16.8 | 16.8 | 16.8 | 16.9 | 16.9 | 17.0 | 17.2 | 17.1 | 17.2 | 17.3 | 17.3 | 17.3 |
| 1922 | 16.9 | 16.9 | 16.7 | 16.7 | 16.7 | 16.7 | 16.8 | 16.6 | 16.6 | 16.7 | 16.8 | 16.9 |
| 1921 | 19.0 | 18.4 | 18.3 | 18.1 | 17.7 | 17.6 | 17.7 | 17.7 | 17.5 | 17.5 | 17.4 | 17.3 |
| 1920 | 19.3 | 19.5 | 19.7 | 20.3 | 20.6 | 20.9 | 20.8 | 20.3 | 20.0 | 19.9 | 19.8 | 19.4 |
| 1919 | 16.5 | 16.2 | 16.4 | 16.7 | 16.9 | 16.9 | 17.4 | 17.7 | 17.8 | 18.1 | 18.5 | 18.9 |
| 1918 | 14.0 | 14.1 | 14.0 | 14.2 | 14.5 | 14.7 | 15.1 | 15.4 | 15.7 | 16.0 | 16.3 | 16.5 |
| 1917 | 11.7 | 12.0 | 12.0 | 12.6 | 12.8 | 13.0 | 12.8 | 13.0 | 13.3 | 13.5 | 13.5 | 13.7 |
| 1916 | 10.4 | 10.4 | 10.5 | 10.6 | 10.7 | 10.8 | 10.8 | 10.9 | 11.1 | 11.3 | 11.5 | 11.6 |
| 1915 | 10.1 | 10.0 | 9.9 | 10.0 | 10.1 | 10.1 | 10.1 | 10.1 | 10.1 | 10.2 | 10.3 | 10.3 |
| 1914 | 10.0 | 9.9 | 9.9 | 9.8 | 9.9 | 9.9 | 10.0 | 10.2 | 10.2 | 10.1 | 10.2 | 10.1 |
| 1913 | 9.8 | 9.8 | 9.8 | 9.8 | 9.7 | 9.8 | 9.9 | 9.9 | 10.0 | 10.0 | 10.1 | 10.0 |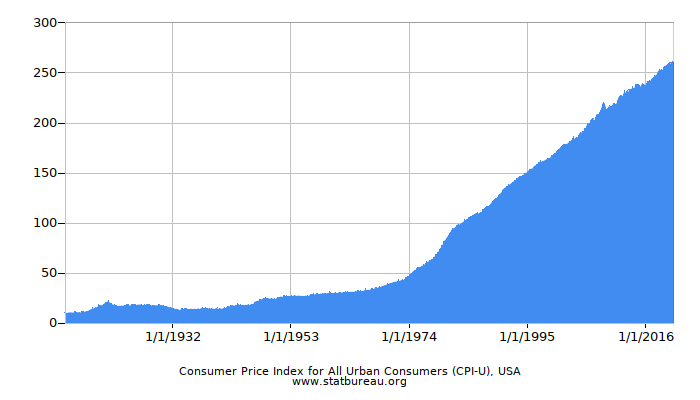 Index data was last modified on 21 Jan 2021